Cameroonian pop singer Dencia has joined growing trend among entertainers keen to postpone motherhood.
The singer took to her snapchat to share shots of her in the doctors office in the process of freezing her eggs.
Although she was advised by her doctor to do it when she's much older, Dencia insisted on having the procedure done now.
See photos below: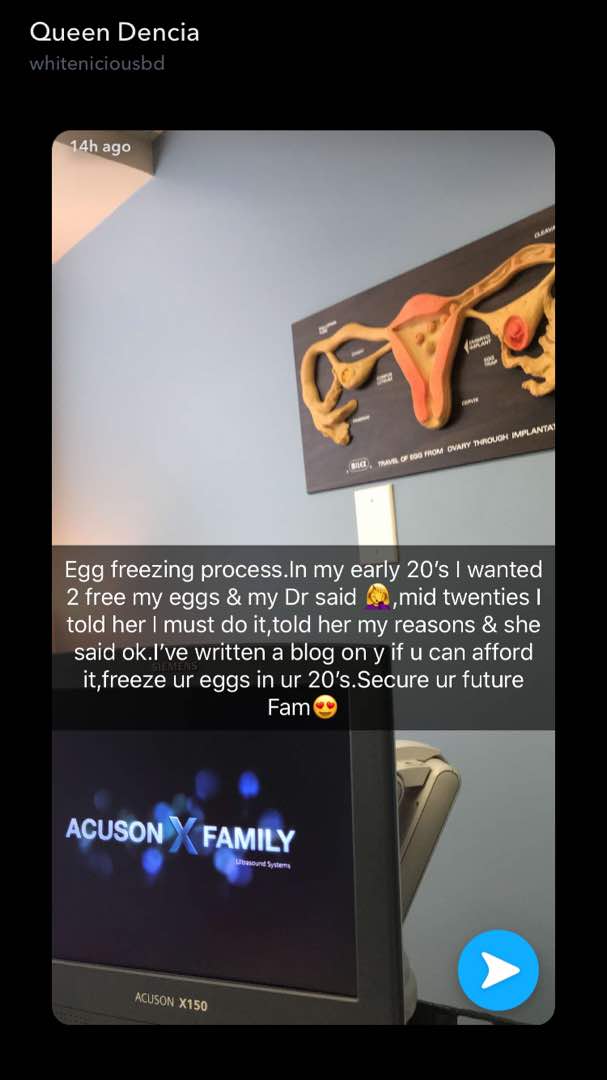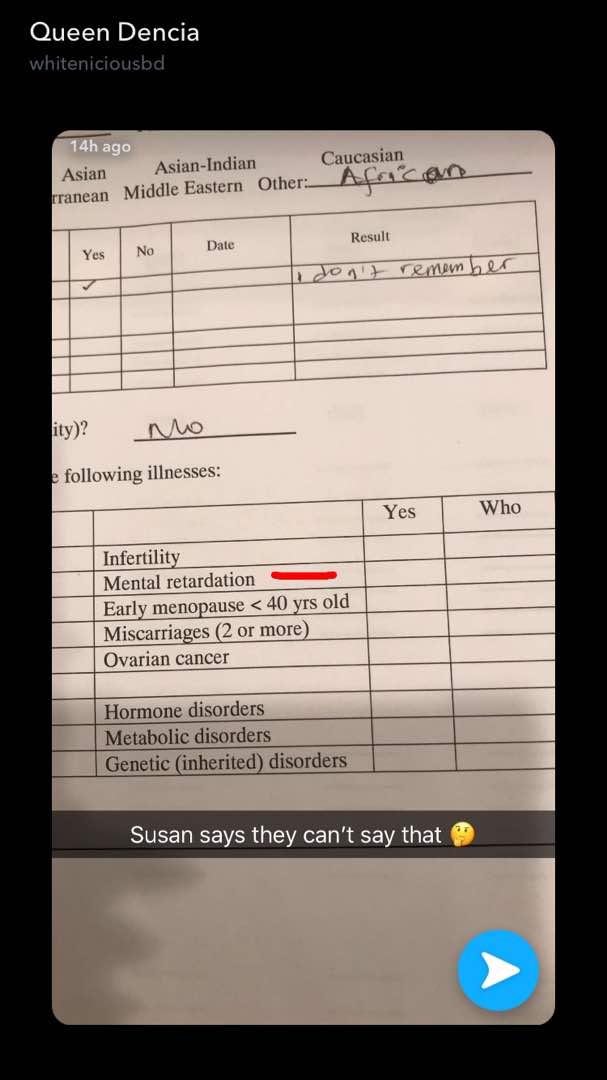 Freezing a woman's eggs in the hope she can use them to have children in years to come sounds like the ultimate reproductive insurance policy.
After all, the quality and number of a woman's eggs decline drastically as she gets older.
A healthy female of 30 has a 20 per cent chance of conceiving each month – a number that falls to just fi ve per cent by the time she hits 40, Express Uk reports.
The idea is that women can maximise their chances of conceiving at some point in the future by freezing eggs when they are young so they can be fertilised later when the time is right for them.
And the procedure is growing in popularity among entertainers who are looking to capitalise on their often brief period in the limelight during their childbearing years.
Singer Rita Ora, 26, is just the latest celebrity to reveal that she had some of her eggs frozen – in her case in her early 20s.
Other celebrities who have opted for what the medics call "oocyte cryopreservation" include Modern Family actress Sofia Vergara and singer Celine Dion.
While the latter successfully gave birth to twins eight years after freezing her embryos, having undergone IVF to conceive her first child, Vergara is embroiled in a legal dispute with her ex-fi ancé over the future of frozen embryos conceived using her eggs.
Egg freezing is also useful for women who need treatment for a medical condition that will affect their fertility but it is increasingly popular with young career women.
"This option can give you peace of mind that whatever happens you may be able to have a family in the future," says a spokesperson for the Human Fertilisation and Embryology Authority (HFEA), the fertility watchdog.
Egg freezing may not yet be commonplace but it is becoming a lifestyle choice.
In 2014, 816 women had their eggs frozen at 65 clinics, a tripling since 2009. And this boom is being fuelled by the increasingly proactive behaviour of egg-freezing clinics and employers.
A number of the former market themselves by giving talks to female employees at organisations likely to employ careerfocused women, such as investment banks, in a bid to drum up trade.
In the US, companies such as Apple and Facebook are offering egg-freezing as a job "perk" to young female employees.
But the procedure carries no guarantee of success